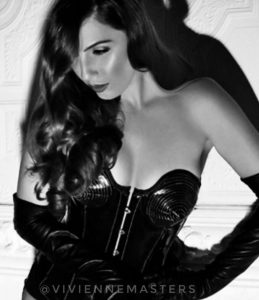 Guiding your relationship with Passion, Experience & Education
Hello my name is Vivienne Masters and nothing gives me more pleasure than to look deeply into the hearts and minds of my clients; showing them 'other ways' to enrich their sex lives.
Hand-picked and trained by Jaeleen Bennis, creator of Bondassage®, I have completed the in-depth rigorous study of the sequence, earning my 'PhD in Bondassage'. Bondassage is a copyrighted sequence of domination that is a perfect balance of sensual BDSM and massage. The combination of pleasurable stimulation of all kinds, is a uniquely unforgettable experience.
With me, you'll be in highly competent hands of an experienced professional who brings a wealth of knowledge to her practice. With almost 20 years of training in the Sensual Arts, I am exceptionally skilled at helping you and your partner acquire new techniques to deepen your loving connection with each other.
Private couples instruction with a Certified Bondassage Trainer is a safe, fun, and creative way to expand your erotic fantasies. I am here to help you reignite the passion in your relationship. You'll learn how to relax and become more sensitive and adventurous with each other bringing you to new levels of intimacy.
  Imagine …
Sharing an unforgettable sensual voyage of discovery
Opening yourselves to new and exciting sensations
Enjoying a deeper, more fulfilling sensuality
Freeing parts of yourself that you've kept hidden for far too long
Sharing ecstatic bliss … sublime excitement and relaxation
Falling in love with each other all over again through an unforgettable experience
Getting Started
We start out by getting to know each other over the phone or on Zoom. We'll chat about things like how long you've been together and ways you'd like to expand the pleasure of your relationship. Your coaching is then tailored to your needs, interests, and your unique relationship dynamics. There's no right or wrong.
We'll work together to explore ways to increase your desire, pleasure, intimacy, and connection with your partner. You'll discover a whole world of delightful new sensations. You'll learn how to use those sexy toys you bought at the sex shop and have more fun and naughty adventures in your playtime!
I'll help you explore techniques and toys you've always wanted to try and introduce you to some you may have never even heard of.  You'll find that it's easy to relax, let loose, and play
Your Training Package Includes:
30 Min. Introductory phone/ Zoom Consultation
 Starter BDSM Toy Kit
Mindfold Blindfold
Erotic Music Playlist
 Bondassage Book: Kinky Erotic Massage Tips for Lovers
 Online Access to Bondassage for Couples Resource Page
30 Minute Follow-Up Zoom Session
Additional days of training can be included for an additional 1000/Day.
I also offer online consultations via ZOOM:
120 / 30 minutes
200 / 60 minutes
300 / 90 minutes
I offer Bondassage For Couples Personalized Private Instruction in Miami, Florida.
I am also available to travel within the United States