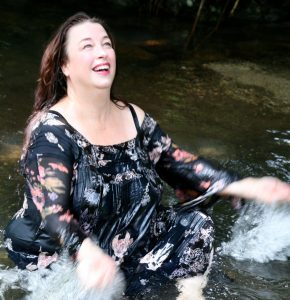 I would love to help you get more out of your sensual experiences.
Hi, I am Liana, and I'm a qualified Relationship Coach, Sexological Bodyworker & Bondassage® Trainer & Practitioner.
Bondassage is a fabulous way to experience a whole range of erotic and sensual pleasures.  You can learn how to create great experiences for each other.
As a Bondassage Trainer, my goal is to help you learn new sensual skills and experience wonderful new sensations.
Over the years, I've experienced and created some delicious new ways of enjoying our bodies.
A little about me: After 25 years in the IT industry,  I decided there's more to life than computers and work,  And I have always been interested in sensuality, sexuality and relationships.  So it is natural that I love helping people get more out of their of pleasure!
You can have more passion, love, and a hellva' lot more fun!
You can become more sensuous and adventurous with each other, and reach new levels of intimacy and sensuality.
Start exploring new skills, expanding your boundaries, and rekindling the passion in your relationship.
– One-day session: $1000 AUD – 4 to 5 hours
– Two-day session: $1600 AUD – 4 Hours Each Day
"You've opened up a new world of possibilities for our sex life. We've been married for nearly 26 years now, and it's no exaggeration to say that we've fallen in love with each other all over again. We practically can't keep our hands off each other."
—T & P, London
"After just three days, I feel invigorated and re-energized to explore my sex life and erotic nature. I'm a single woman, and you've made a huge difference in how I feel about myself as a woman and a sexual being. I am so glad I took the plunge and spent the time with you. I'd thought there was something wrong with me, but I now know there isn't. I was a bit scared to come by myself, but this was the best thing I could do for myself. Today, I am simply glorious … and grateful. Thank you, Liana!"
—Alex, Sydney
My clients often stay at Byron at Byron or any one of the beautiful homes available at Watego's.